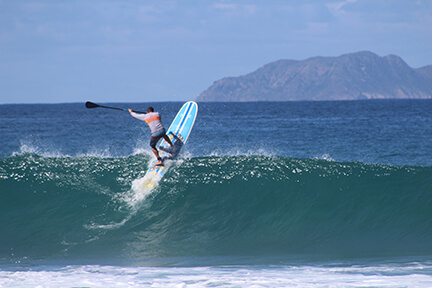 Cuando piensa en agarrar una ola, probablemente imagina a la isla de Hawaii. ¿Pero sabía que Puerto Rico es un destino de surfing realmente genial? De hecho, la costa oeste de Puerto Rico, donde Rincon y Maria's Beach están localizados, está conocido como el Capital de Surf del Caribe. Si es un surfista profesional o principiante, surfista de remo o tabla larga, hay muchas oportunidades para agarrar una ola en Puerto Rico.
¿Cómo llegό Maria's a ser un destino de surf?
Fue el surf que puso a Rincón, la casa de Maria's en el mapa, cuando tuvo lugar el World Surfing Championship en 1968. ABC's Wide World of Sports emitió la competición, lo cual fue la primera vez que una competición de Surf ha estado cubierto por una cadena deportiva. En esa época, Maria's Beach se conocía como Rincón Point. Era cuando los surfers empezaron a conocer a María García, el dueño original de María's, que comenzaron a referir afectuosamente al lugar como Maria's Beach, y con el tiempo el nombre se atascó.
Desde este tiempo el surf llegó a ser uno de los atracciones principales de Maria's Beach. Los World Surfing Championships de 1988 y 2007, a lo largo de muchas calificativas, tuvieron lugar en Rincón. ¿Pero qué hace si no es un surfista profesional, y solo quiere aprender como disfrutar del surf in Puerto Rico? Por suerte, puede inscribirse por lecciones de surf en una de las escuelas locales. Muchas veces surfistas profesionales anteriores o personas con muchas décadas de experiencia manejan estas escuelas, entonces sabe que recibirá lecciones de los expertos del surf. Si aprender como hacer el surf ha siempre estado un sueño, ¡Puerto Rico es el lugar de hacerlo!
¿Todos pueden hacer el surf en Rincón?
De supuesto, el lugar mejor del surf en Rincón, Puerto Rico es dependiente en su nivel de habilidad. Para los principiantes, Domes, Sandy Beach y Antonio's Beach son elecciones mejores. Bodyboarders pueden encontrar su lugar el el surf de Little Malibu y el Spanish Wall, y surfistas con experiencia disfrutan de Tres Palmas, Dogma y por supuesto, Maria's Beach. Cuando se queda a Maria's, tendrá acceso al surfing de Maria's beach. Cómo está describido en el sitio web del Surf Rincón Puerto Rico, Maria's Beach es "una rotura del oleaje popular debajo al Calypso Cafe. Las olas rompen cerca de la orilla, entonces no tiene que remar mucho. El lugar atrae el público, pero no es muy amistoso a los principiantes. The Point is es el comienzo de Maria's a la derecha y se distingue más cuando el surf está bajo. Cuando Maria's es grande, una ola puede llegar hasta Dogman. Los Pistons es una porción de Maria's nombrado por los pistones de motor del naufragio que todavía están alojados en el agua. Los pistones prominentes pueden ser peligrosos si se queda atrapado."
¿Dónde puedo quedarme durante mis vacaciones de surf?
Sin importar en su nivel de habilidad de surf, puede encontrar a su paraíso de surf en Rincón Puerto Rico. A Marias, estaremos feliz para asistirle no solo con su alojamiento, pero también estaremos contentos para ayudarle a hacer lo mejor de surfing en Puerto Rico mientras se queda con nosotros. Cuando está listo para planear su mejor vacación de su vida, llamanos al 787-685-6648 (español: 787-449-3673), o use nuestra forma de contacto conveniente para explicarlo más de Ud. y sus planes para vacaciones. ¡Esperamos su visita con nosotros!