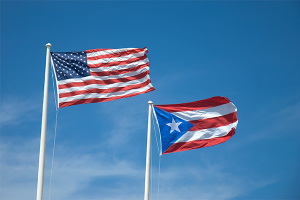 A Maria's, nos encanta hacer a la gente feliz. Nada nos encanta más de cuando personas se quedan con nosotros, se divierten, y se enamoran de Puerto Rico. Ahora, nuestra mancomunidad de Puerto Rico está luchando contra la devastación masiva causada del huracán Maria. Hay partes de la isla que se han quedado sin agua y electricidad, donde las carreteras son impasables, y donde hay gente que no pueden vivir en sus casas. Mucho tiempo pasará antes de que nuestra isla será restaurada, y es posible que unas áreas nunca serán restauradas completas.
Nuestra villa sufrió mínimo daño de la tormenta, pero muchas de las comunidades vecindarios no se quedaron tan afortunados. Afortunadamente, socorro caritativos, además de la agrupación de vecinos y grupos cívicos, han dado muchas fuerzas para ayudar a Puerto Rico a ordenar las piezas. Ciudadanos están quitando los restos de las carreteras, restaurantes están ayudando a dar de comer a la gente, gratuitamente, y la gente de los vecindarios han abierto sus casas y negocios para ofrecer refugio a los que han perdido sus casas. La gente de Puerto Rico son fuerte, y están trabajando duramente juntos para superar la devastación y para reconstruir la isla, pero hay muchas necesidades.  
Muchas personas se han preguntado qué pueden hacer para ayudar a raíz de éste desastre. Puede ser complicado saber donde los donativos van a tener más impacto, y aunque si la caridad recibiendo los donativos es de confianza. Según un artículo que se ha publicado en el sitio web Consumer Reports, hay varias caridades trabajando directamente con Puerto Rico. Ya que están sobre el terreno, estos grupos pueden ver de primera mano lo que es más necesario, y lo que puede tener el más impacto. El artículo indica que grupos de vigilancia han revisado éstas organizaciones caridades para asegurar que la mayoría del dinero irá directamente a los que lo necesitan, ya en los bienes o en servicios.
Si está considerando hacer una donación monetaria, por favor tenga en cuenta éstas organizaciones:
Save the Children: Se ha asociado con el Red Cross and FEMA en centros de evacuaciones, cumpliendo la necesidad para unos artículos como toallitas para bebés y pañales, cunas, corrales y lavabos para baño. Trabajadores en Puerto Rico han establecido espacios en los refugios para que los niños pueden jugar, dormir y comer sin peligro.
Direct Relief: El distribuidor mayoreo de productos médicos está sobre terreno en Puerto Rico, suministrando medicinas a las personas por la isla.
World Vision: Éste grupo ha mandado gente a trabajar con socios locales por Puerto Rico para proveer comida, agua y productos higiénicos.
Hispanic Federation: A lo largo del Hispanic Federation, NYC lideres civicos crearon Unidos Disaster Relief Fund para ayudar a Puerto Rico. El grupo indica que 90 por ciento de las donaciones irán directamente a los niños, adultos y familias mientras recuperan del desastre.
Rotary International: El Rotary Foundation, a través de una donación de Rotarian Robert Murray, ha empezado un fondo para ayudar con la recuperación de Puerto Rico. Además, muchos Rotary Clubs locales están ayudando en los esfuerzos alivios; consulte con tu club local para saber más.
Nuestro objetivo es actualizar continuamente con noticias de nuestra isla hermosa durante el progreso. Agradecemos su apoyo, y gracias para tener María's y todo de Puerto Rico en sus pensamientos en las semanas recientes.