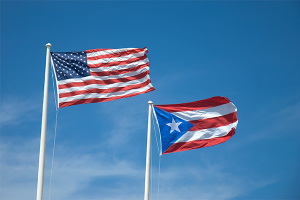 At Maria's, we love making people happy. Nothing pleases us more than when people stay with us, have a great time, and fall in love with Puerto Rico. Right now, our beautiful commonwealth is struggling under the mass devastation caused by Hurricane Maria. There are parts of the island that are without water and electricity, where roadways are impassable, and where people are unable to live in their homes. It will take a long time to restore our island, and some areas may never become fully restored.
Our villa suffered from minimal storm damage, but many of our neighboring communities weren't as fortunate. Thankfully, there have been many charitable relief efforts, as well as the banding together of neighbors and civic groups, to help Puerto Rico pick up the pieces. Private citizens are clearing roads, restaurants are keeping people fed, free of charge, and neighborhoods have opened up private homes and businesses as shelter to people who have lost their own homes. The people of Puerto Rico are strong, and are working hard together to overcome the devastation and rebuild the island, but there is great need.
Many people are wondering what they can do to help in the wake of this disaster. It can be confusing to know where donations will make the most impact, and even if the charity taking donations is trustworthy. According to an article on the Consumer Reports website, there are several charities working directly in Puerto Rico. Since they are on the ground, these groups can see first-hand what is most needed, and can make the most impact. The article states that charity watchdog groups have vetted these organizations to ensure that the majority of money donated will go directly to those in need, either in goods or services.
If you are considering a monetary donation, please keep these organizations in mind:
Save the Children: They have been partnering with the Red Cross and FEMA in evacuation centers, fulfilling the need for such items as baby wipes, diapers, cribs, playpens and bathing basins. Workers in Puerto Rico have set up spaces for children within the shelters to play, sleep and eat safely.
Direct Relief: This wholesale distributor of medical products is on the ground in Puerto Rico, supplying medications to people on the island.
World Vision: This group has sent people to work with local partners throughout Puerto Rico in order to provide food, water and hygiene products.
Hispanic Federation: Along with the Hispanic Federation, NYC civic leaders created Unidos Disaster Relief Fund to aid Puerto Rico. The group states that 90 percent of donations will go directly to children, adults and families as they recover from the disaster.
We will keep you updated on our beautiful island as time progresses. We appreciate your patronage, and thank you for keeping Maria's and all of Puerto Rico in your thoughts in recent weeks.