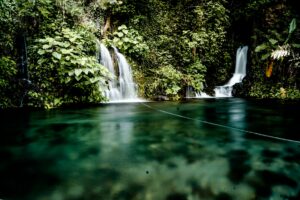 The island of Puerto Rico is blessed with sandy beaches, luscious tropical forests and a vibrant, welcoming culture, but a short trip into the interior can reveal one of the island's most remarkable features. Generally only a short distance inland, one can find an assortment of waterfalls, often surrounded by greenery like an oasis out of a fantasy. Check out some of our favorite waterfalls throughout the western side of Puerto Rico, which will prove – once again – that it truly is the island of enchantment.
Gozalandia Waterfall (Cascada Gozalandia)
Located about an hour's drive from Rincon, in San Sebastian, is Gozalandia Waterfall. According to Puerto Rico Day Trips, Gozalandia Waterfall is quite tall at approximately 50 feet in height, and there is a wide pool at the bottom of the waterfall, which is popular for swimming. Over the past few years, the waterfall has grown more popular, so there is now a parking area and restaurant near the falls, as well as a formal path leading to the main pool itself. Gozalandia Waterfall is known to be the most popular waterfall on the western side of the island and is considered by many to be the best waterfall in all of Puerto Rico, making it a must-see for anyone staying in Rincon.
Salto Curet
About an hour and a half away from Rincon, near Mayaguez, is Salto Curet, a more secluded but nonetheless beautiful waterfall. Salto Curet's secluded and mountainous location makes it the perfect destination for those open to a more challenging trek for the gift of privacy, based on the review from World of Waterfalls. At the bottom of the falls lies a large pool, which is perfect for swimming. Given the secluded nature of the waterfall, make sure to monitor weather conditions closely to avoid the risk of flash flooding, which could be potentially dangerous. Nevertheless, Salto Curet is the perfect waterfall destination for the intrepid explorer.
El Ultimo Brinco (The Last Jump)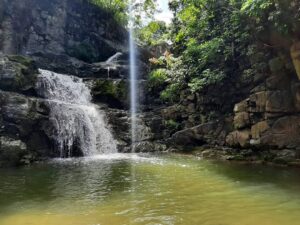 Located right in Rincon, El Ultimo Brinco is the perfect waterfall destination for anyone staying in Rincon. Unlike the other waterfalls mentioned, El Ultimo Brinco is not ideal to swim in, but there is a small pool at the bottom that many visitors have used for swimming. While the name of the waterfall may sound sinister – and yes, "El Ultimo Brinco" is named as such as people have died jumping into the falls – there is a trail leading to the pool at the bottom, so rest assured you can visit the waterfall safely. El Ultimo Brinco is certainly picturesque and is an ideal stop for anyone in Rincon that wants to see one of the island's many waterfalls, but does not want to make a day of the experience.
The western side of Puerto Rico offers a multitude of waterfalls to see and swim in. Maria's convenient location in Rincon, Puerto Rico makes it a wonderful place to stay, both near the beach and near the waterfalls. When you're ready to stay with us, booking is done through Twin Palms, Maria's rental, and onsite management. Please visit our booking page on this website to view the availability of Maria's and fill out our convenient contact form. If you have any additional questions regarding Maria's, you may call Elizabeth at 787-685-6648 (español: Cristina at 787-449-3673).