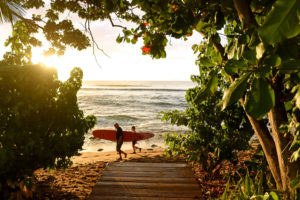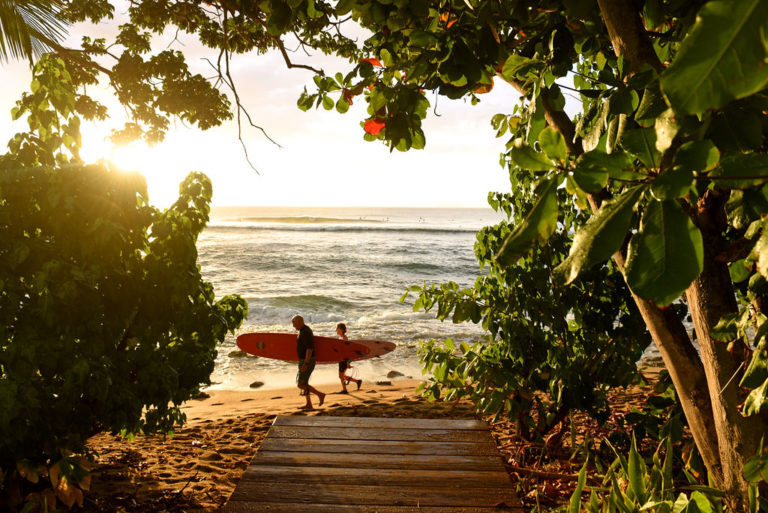 Have you been thinking about catching a wave on the crystalline blue waters of Puerto Rico? Then you might want to consider a surfing vacation to Maria's Beach in Rincon. Maria's Beach has been a popular surf spot since the World Surfing Championships were held there in 1968. There are a number of prime surfing locations in Rincon that will make your surfing vacation one to remember for years to come. Whether you're a seasoned surfer or you're just getting your sea legs, a surfing vacation in Puerto Rico is a perfect choice for anyone who loves to ride the waves.
There are a number of locations in Rincon, where Maria's Beach is located, that will provide you with ample surfing opportunities. Rincon is considered to be one of the best surfing areas in the world, and features a number of surfing beaches that offer something for everyone, from the beginner to the professional surfer. Beaches include Pool's, Sandy Beach, Antonio's, Tres Palmas, Domes, and of course, Maria's. Not to mention, there are a number of surfing schools in Rincon that offer surfing lessons from beginner to advanced, board rentals and more. You can count on having the surfing vacation of your dreams in Puerto Rico!
While on your surfing vacation in Puerto Rico, stay with us at Maria's.
Your surfing vacation starts at Maria's. ABC's Wide World of Sports covered the 1968 World Surfing Championship, which marked the first time a surfing competition was covered by network television sports. At that time, Maria's Beach was known as Rincon Point. It was as the surfers came to know Maria Garcia, original owner of Maria's, that they began to affectionately refer to the area as Maria's Beach, and over time the name stuck. Today, our oceanfront villa is perfect for a surfing vacation that includes your family and friends. Our accommodations are spacious and include a number of amenities that make your surfing vacation enjoyable and memorable. Here are a few features you'll enjoy:
Villa Features
6 full baths
2 full kitchens
Large dining tables
High definition satellite television
A/C and ceiling fans
Internet access
Washer/dryers
Gas grills
Hot tub and full wet bar on each deck
Each booking includes:
Light daily maid service
Local fruit, rum, and coffee
On-site concierge service
Grocery service is available upon arrival for a 30% fee
and Much More!
And while you stay at Maria's, you can enjoy the many activities the Rincon area has to offer. Surfing is a given, but you can also enjoy snorkeling, diving, paddle boarding and fishing. Or, spend a day of fun with the kids at the Las Cascadas Waterpark! Not to mention, there are numerous dining experiences you can enjoy, just steps away from Maria's. Whether you want to experience authentic Criollo cuisine, enjoy a few drinks at a poolside bar, or just grab a burger, there are many taste experiences that await you on your family vacation to Puerto Rico!
When you're ready to book the surfing vacation of your dreams with Maria's, we're ready to help! Our booking is done through Twin Palms, Maria's rental and onsite management. Please visit our booking page on this website to view the availability of Maria's and fill out our convenient contact form below. If you have any additional questions regarding Maria's, you may call Twin Palms at 787-685-6648 (español: 787-449-3673). Thank you for planning your surfing vacation with Maria's!