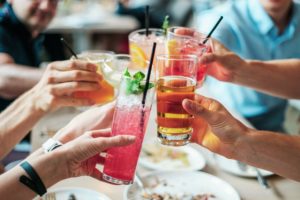 Puerto Rico tiene la suerte de ser uno de los pocos lugares en el mundo que mantiene un clima constante durante todo el año, lo cual quiere decir que Rincón es el destino perfecto para sus vacaciones, bodas o hasta viajes de negocio. Claro, el paisaje verde y abundante que nos encanta de Puerto Rico depende de la lluvia, así que puede esperar un par de días lluviosos durante su viaje. Afortunadamente, estos días lluviosos en Puerto Rico no se pierden. ꜟAproveche la oportunidad de sumergirse en la cultura puertorriqueña, todo bajo techo!
Rincón tiene una gran variedad de restaurantes con una hospitalidad boricua y con el sabor delicioso que uno espera de la isla ¡Aprovecha de un día nublado para probar la cocina y aquellas bebidas autóctonas de Puerto Rico!
The Beach House
The Beach House tiene barra, restaurante, ambiente y vista. Ubicado a pasos de Marias, haciendo esta barra en la lomita un destino fácil y conveniente para nuestros huespedes. The Beach House ofrece una variedad de comida, fusionando muchos estilos culinarios y tradiciones diferentes. Además, The Beach House brinda una vista increíble de los atardeceres famosos de Rincón, a la misma vez es una tremenda opción para refugiar se de la lluvia.
Harbor Restaurant
Harbor Restaurant se encuentra justo en la playa, cerca del pueblo de Rincón. En días lluviosos, Harbour Restaurant ofrece una vista increíble de la playa, mientras te protege del diluvio. Harbour Restaurant ofrece el ambiente perfecto para disfrutar de la cocina tradicional puertorriqueña a precios favorables, aquí puedes beber tu cóctel favorito mientras disfrutas de los sonidos tropicales de la lluvia.
La Cambija
También cerca del pueblo se encuentra La Cambija, un restaurante de mariscos y comida puertorriqueña con un ambiente más rústico y bohemio. Mientras estés en La Cambija, pruebe su famoso ceviche (un plato de mariscos crudos marinados con jugos cítricos).
Shipwreck Bar and Grill
Shipwreck Bar and Grill ofrece una experiencia gastronómica cómoda y bajo techo pero con el beneficio de sentirse afuera en la Marina de Rincón. Shipwreck ofrece una variedad de bebidas alcohólicas, deliciosos postres y un extenso menú que ofrece una combinación de cocina tradicional puertorriqueña y comidas populares del Noreste de los Estados Unidos.
Caddy's Calypso Cafe
¿Quieres algo más cerca a Maria 's? Caddy's Calypso Café está ubicado justo detras Maria's Beach. Caddy's Calypso ofrece música en vivo, un delicioso menú y bebidas con una maravillosa vista del atardecer en Rincón. Para una salida durante un día lluvioso, cerca de su estadía, Caddy's Calypso puede ser la escapada cultural perfecta.
O te puedes quedar en la comodidad de la villa, en el balcón disfrutando de un chichaito.
Si eres una persona que prefiere la comodidad de la privacidad después de un día de mucha aventura, aún puedes experimentar la cultura puertorriqueña por tu cuenta en Maria's. Prueba chichaito, un trago puertorriqueño con sabor a regaliz. Chichaito es una bebida sencilla que es tan vibrante como nuestra isla.
Chichaito
1-parte ron Don Q Cristal
1-parte Anis Paloma
(Para un chicharito diferente añadele un poco de miel y limón para un sabor más dulce y profundo.)
Puerto Rico ofrece cultura y diversión incluso en los días más lluviosos. Aproveche al máximo en sus vacaciones en Rincón hospedándose en Maria's
Cuando esté listo para quedarse con nosotros, la reservación se realiza a través de Twin Palms, nuestra compañía administrativa. Visite nuestra página de reservaciones en esta misma página web para ver la disponibilidad de Maria's y llene nuestro formulario de contacto. Si tiene alguna pregunta adicional sobre María, puede llamar a Elizabeth al 787-685-6648 (español: Cristina al 787-449-3673).