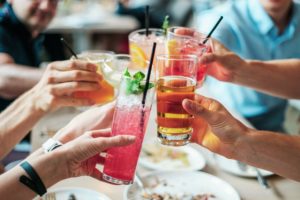 Puerto Rico is fortunate to be one of the few places in the world that maintains consistent weather year-round, making Rincón the perfect destination for your vacation, wedding, or business trip. However, Puerto Rico's lush, green scenery depends on rain, so expect a couple of rainy days during your trip. Puerto Rican rainy days don't mean wasted time though. Take the opportunity to immerse yourself in Puerto Rican culture, all within the comfort of the indoors.
Rincon has some of the nicest, most hospitable restaurants with the most delicious food. Take a rainy day to try some delectable Puerto Rican cuisine and drinks!
The Beach House
The Beach House is a bar and restaurant located very close to Maria's, making it an easy destination during your stay. The Beach House offers a variety of food, fusing together many different culinary styles and traditions. Also, The Beach House provides an amazing view of the Rincón sunset, while providing ample shelter for rainier days.
Harbor Restaurant
Harbor Restaurant sits right on the beach, close to downtown Rincón. On rainy days, Harbor Restaurant provides an amazing view of the beach, sheltered from the rain. Harbor Restaurant provides the perfect atmosphere for enjoying affordable, traditional Puerto Rican cuisine and sipping a delicious cocktail to the soft pitter-patter of the rain.
La Cambija
Also close to downtown is La Cambija, a Puerto Rican seafood restaurant with more of a rustic, bohemian ambiance. While at La Cambija, try their very popular ceviche (a dish of raw seafood marinated with citrus juice).
Shipwreck Bar and Grill
Shipwreck Bar and Grill offers a sheltered, comfortable dining experience right on Black Eagle Beach and Marina. Shipwreck offers a variety of affordable alcoholic beverages, delicious desserts, and an extensive menu featuring a blend of traditional Puerto Rican cuisine and popular New England foods.
Caddy's Calypso Cafe
Looking to stay close to Maria's? Caddy's Calypso Cafe is located right on Maria's Beach. Caddy's Calypso features live music, a delicious menu, and drinks with a wonderful view of the Rincon sunset. For a rainy-day outing, close to your stay, Caddy's Calypso can be the perfect, cultural getaway.
Or, stay in and enjoy a Puerto Rican favorite – Chichaito!
If you're a person who prefers the comfort of privacy after a busy day, you can still experience Puerto Rican culture on your own at Maria's. Try Chichaito, a popular Puerto Rican, licorice-flavored shot. Chichaito is a simple drink that is as vibrant as the island itself.
Chichaito
1-part Don Q Cristal Rum
1-part Paloma Anis Liqueur
(For a different Chichaito, add some lemon and honey for a deeper, sweeter flavor.)
Puerto Rico offers culture and fun even on its rainiest days. Make the most of your Rincón vacation by staying at Maria's.
When you're ready to stay with us, booking is done through Twin Palms, Maria's rental and onsite management. Please visit our booking page on this website to view the availability of Maria's and fill out our convenient contact form. If you have any additional questions regarding Maria's, you may call Elizabeth at 787-685-6648 (español: Cristina at 787-449-3673).