Everyone talks about how spending time by the ocean helps them relax and regroup. Of course, there could be any number of reasons for this. Feeling the sun on your skin, getting away from the workday grind and pressure, and spending some quality time with family are all reasons why a beach vacation can provide some much-needed stress relief. Unfortunately, right now we're living in a time in which getting away for a while may not be an option. At the same time, however, self-care and taking the time to unwind are vitally important.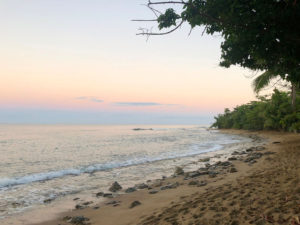 One very simple way you can calm your mind and relax is by listening to ocean sounds. In a study conducted at Penn State University, it turns out that simply hearing the sound of the ocean can help people relax and even fall asleep. Dr. Orfeu Buxton, an associate professor of behavioral health involved in the study, explained how ocean sounds can help people calm down and rest.
"These slow, whooshing noises are the sounds of non-threats, which is why they work to calm people. It's like they're saying, don't worry, don't worry, don't worry," Buxton said, explaining that the noise of ocean waves crashing on rocks is often repetitive, which is also meditative. Therefore, the sound helps people move into a mental state of relaxation and calm.
5 Steps to the Mental Vacation You Need
If you can't visit a tropical paradise, you can still take a mini-vacation right in your home. Just follow these five steps and you'll be relaxing in no time.
Calm down with a bubble bath. There are many wonderfully-scented bath products on the market, some that are made with relaxation in mind. Lavender, chamomile and sage are three scents known to help aid in relaxation.
Speaking of chamomile, enjoy a cup of tea. Chamomile tea with a touch of lemon and honey is soothing before bed, and has properties that can help you drift into calm.
Light a candle or two. If you want to enjoy the complete ocean experience, there are a number of different brands of scented candles and wax tarts that call to mind the scent of the ocean air. Turn down the lights and enjoy the candle's soft glow and fragrance.
Tune out of social media. Turn off your phone, laptop and TV – or at least tune out of social media or any type of online activity that tends to make you anxious. Now is the time for rest, so giving your eyes a break from the blue screen helps give your brain a break, too.
Tune into an ocean meditation. Now that you've taken the steps to relax your body, it's time to relax your mind. There are many great ocean meditations available on YouTube, some with simply the sounds of the ocean, some with instrumental music, and even guided meditations that take you on an ocean vacation – right in your own mind.
And, when you can get away, don't forget – Maria's is waiting for you.
When you stay with us at Maria's in beautiful Rincón, Puerto Rico, the sound of the ocean is right outside our door. We're located right on beautiful Maria's Beach. Booking is done through Twin Palms, Maria's rental and onsite management. Please visit our booking page on this website to view the availability of Maria's and fill out our convenient contact form. If you have any additional questions regarding Maria's, you may call Elizabeth at 787-685-6648 (español: Cristina at 787-449-3673). They will be more than happy to help you plan your stay in Puerto Rico with us!