If you have ever been to Rincon, then you have probably seen the tiny mountainous island of Desecheo, just 13 miles off the coast. Desecheo National Wildlife Refuge, often simply referred to as Desecheo, is an uninhabited island with an interesting history. While visitors are not allowed on the island itself, visitors of Rincon have an opportunity to witness some of its natural beauty.
History of Desecheo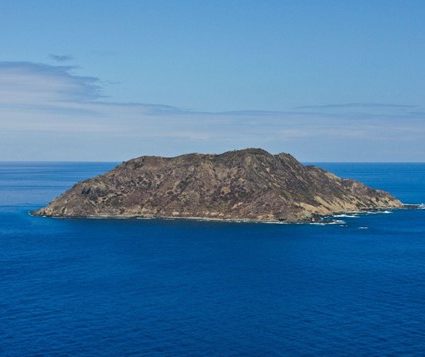 While the island of Desecheo was named by the Taino people, there does not appear to be evidence of pre-Columbian settlement of the island, according to the University of Puerto Rico – Mayaguez. This is likely because of its small size (Desecheo is only about a mile in diameter) and the fact that Desecheo has no permanent freshwater sources. Over time, Desecheo began to be used for smugglers due to its rugged terrain. During this period of time, invasive animal species like goats and rats were introduced to the island, which upset native animal and plant populations.
The rare populations of sea birds and other plants and animals on Desecheo prompted the island to be designated as a wildlife refuge multiple times throughout its history, beginning in 1912 under President Taft. However, Desecheo's secluded and rough terrain has also prompted its use by the United States military for survival training and bombing practices. Prior to military use, there was also an unsuccessful attempt to farm Desecheo. According to the U.S. Fish and Wildlife Service, in 1966, Desecheo was transferred to the Department of Health, Education, and Welfare, who introduced rhesus macaques to the island for medical investigations. Finally, in 1976, the island of Desecheo was transferred to the U.S. Fish and Wildlife Service.
Since 1976, efforts have been made to eliminate invasive species – goats, rats and macaques – from the island in order to protect rare native animal and plant populations. Due to the presence of undetonated explosives on the island (as well as the rare and vulnerable plant and animal populations), visitors are not allowed on the island of Desecheo.
Getting a Closer Look at Desecheos
Due to nearly 50 years of conservation efforts and limited human interactions with the island, the island of Desecheo has some of the most beautiful, undisturbed coral reefs in the Caribbean. While the island itself is not accessible by visitors, its magnificent reefs may be observed on supervised scuba diving and snorkeling excursions. Taino Divers out of Rincon, Puerto Rico offers daily excursions to Desecheo, so that visitors may see its plethora of coral and other wildlife. The six-hour excursion departs from Black Eagle Marina (within walking distance from Maria's Villa) everyday at 8 am, and includes beverages and snacks.
Whether you decide to book a scuba or snorkeling excursion to the mysterious island of Desecheo, or would prefer to view the island from the coast, book your stay in Rincon with Maria's.
When you're ready to stay with us, booking is done through Twin Palms, Maria's rental, and onsite management. Please visit our booking page on this website to view the availability of Maria's and fill out our convenient contact form. If you have any additional questions regarding Maria's, you may call Elizabeth at 787-685-6648 (español: Cristina at 787-449-3673).