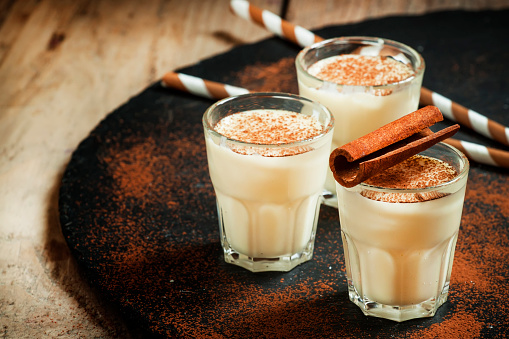 The holiday season is here, and that makes us think of many delicious holiday foods. Turkey, stuffing, cranberry sauce, eggnog… the list goes on and on (and makes our stomachs grumble!) Did you know there's a traditional holiday beverage in Puerto Rico as well? In fact, it's considered the island's version of eggnog. Coquito, named after Puerto Rico's tiny mascot, the coqui frog, is similar to eggnog in flavor, but incorporates the tropical flavor of coconut.
GOYA® Foods, a noted source for authentic Latino cuisine, shared their recipe for coquito. We hope you decide to try it out this holiday season, and share it with your family and friends.
Ingredients
2 – 12 oz. cans evaporated milk
1 – 15 oz. can cream of coconut
1 – 13.5 oz. can coconut milk
½ cup sweetened condensed milk
½ cup white rum
1 tsp. vanilla extract
½ tsp. ground cinnamon, plus more for garnish
Cinnamon sticks for garnish (if desired)
Directions
Add evaporated milk, cream of coconut, coconut milk, sweetened condensed milk, rum, vanilla extract and ground cinnamon to blender. Blend on high until mixture is well combined, one to two minutes.
Pour coconut mixture into glass bottles and cover. Refrigerate until cold.
To serve, shake the bottle well to combine. Pour the coquito into small serving glasses and garnish with ground cinnamon and cinnamon sticks if desired.
If you're considering an early winter trip to Puerto Rico during the holiday season, consider booking your vacation with Maria's, a luxury oceanfront vacation rental located on Maria's Beach in Rincón, Puerto Rico. Our booking is done through Twin Palms, Maria's rental and onsite management. Please visit our booking page on this website to view the availability of Maria's and fill out our convenient contact form. If you have any additional questions regarding Maria's, you may call Twin Palms at 787-685-6648 (español: 787-449-3673). Come and enjoy a coquito with us this holiday season!