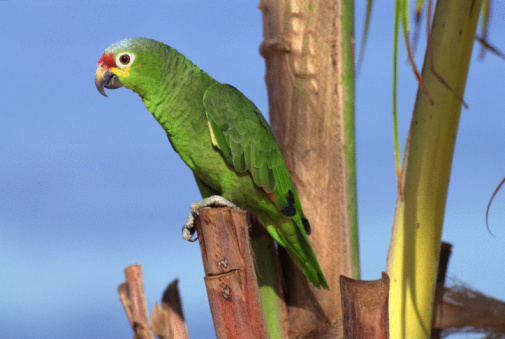 While vacationing in Puerto Rico, many people are so excited about staying in a tropical paradise that they only plan for fun in the sun and water. But while there are many fun activities that involve the ocean and life under the sea (surfing and snorkeling, anyone?) you'll miss out if you don't spend at least part of your Puerto Rican getaway checking out the flora and fauna. And, if you're a birdwatcher, the archipelago features 17 endemic species that will give you a once-in-a-lifetime chance to view wild birds you won't see elsewhere.
Birding Puerto Rico, a small company that provides birding trips to both individuals and small groups, works to help visitors to the island learn about the bird population in Puerto Rico while contributing to environmental and cultural conservation awareness. They provide tours at El Yunque National Forest, Medio Mundo and Daguao, Laguna Cartagena, and Cabo Rojo Fish & Wildlife National Refuges. They list the endemic species of birds on the Puerto Rican archipelago as:
Yellow-shouldered blackbird
Puerto Rican Amazon (parrot)
Green mango
Puerto Rican nightjar
Puerto Rican emerald
Puerto Rican lizard-cuckoo
Adelaide's warbler
Elfin-woods warbler
Puerto Rican oriole
Puerto Rican bullfinch
Puerto Rican screech owl
Puerto Rican woodpecker
Puerto Rican flycatcher
Puerto Rican tanager
Puerto Rican spindalis
Puerto Rican tody
Puerto Rican vireo
Of the 17 birds that are native to the Puerto Rican isles, four of these species are endangered or threatened – the yellow-shouldered blackbird, the Puerto Rican nightjar, the Puerto Rican parrot and the elfin-woods warbler. Because human activity is the main cause of decline in these bird populations, birdwatchers are always asked to exercise care and conservation when visiting natural areas. Birding Puerto Rico suggests that people limit the use of recordings and other methods of attracting birds, and that they never use these means to attract threatened or endangered birds. They also encourage people to stay back away from nests, nesting areas and feeding sites.
If you decide to stay with us on Maria's Beach, some of the best birding locales include the Laguna Cartagena National Wildlife Refuge, which is a great place to see numerous birds including both West Indian whistling and masked ducks. The Cabo Rojo National Wildlife Refuge provides you with opportunities to see the yellow-shouldered blackbird, the snowy plover, the Puerto Rican flycatcher, and the Caribbean elaenia. Or, visit the mountainous town of Maricao where you will have the opportunity to see many of the endemic birds listed above. For the best birding trip you should dress for hiking and pack sunblock, rain gear, binoculars and your camera. Some tours, such as the ones offered by Birding Puerto Rico, include bottled water, insect repellent, a scope and, most importantly, a certified tour guide. Please check with your birding tour provider to learn more.
Maria's, a luxury villa located on Maria's Beach, offers people visiting Rincón, Puerto Rico a comfortable island paradise with all the amenities of home – and more. It's the perfect place for a good night's rest – and maybe even a relaxing dip in the on-site pool or hot tub – after your bird watching adventure. Our booking is done through Twin Palms, Maria's rental and onsite management. Please visit our booking page on this website to view the availability of Maria's and fill out our convenient contact form below. If you have any additional questions regarding Maria's, you may call Twin Palms at 787-685-6648 (español: 787-449-3673). Thank you for planning your Puerto Rican vacation with us, and happy birding!