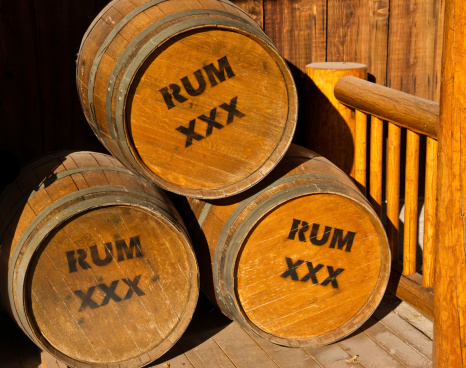 "Why is the rum always gone?"
That's the question Captain Jack Sparrow asks in the popular movie, "Pirates of the Caribbean: Dead Man's Chest." Indeed, pirate folklore touts every salty dog's love for the island potable. In truth, it's likely that 18th century pirates probably did enjoy a good share of rum, simply because water carried aboard ship would stagnate. Mixing rum with stored water killed off some of the germs and bacteria, and everyone aboard ships – from Royal Navy officers to scallywag pirates – imbibed in the tropical liquor.
According to About Travel, rum is not only Puerto Rico's chief export; it's also a part of the archipelago's colorful history.
Ponce de Leon introduced Creole sugar from the Dominican Republic to Puerto Rico in the early 1500s, and the island nation's first sugar mill was established in 1517. Rum production began in the 1650s.
As such, Puerto Rico made its early living on the sugarcane industry, which leant itself to the production of rum, which is a byproduct of sugar production. Sugar cane juice, which is known as guarapo in Puerto Rico, is boiled to a high temperature in order to create crystallized sugar and molasses. Rum is the result of mixing molasses and water and allowing the mixture to ferment.
Today, more than 70 percent of the rum sold in the U.S. comes from Puerto Rico.
The island is the only rum-producing region to adhere to a minimum aging law. There are four distinctive varieties of rum produced in Puerto Rico, each with its own unique flavor. Generally, that flavor dictates how the rum will be used (such as for mixed drinks, in recipes, etc.) Here's a brief tutorial on the rum varieties produced in Puerto Rico:
Light Rum (also known as Silver or White Rum): Light rum is mostly used in cocktails such as the mojito. Has a subtler flavor than other rums.
Gold or Amber Rum: Has a golden color, a richer taste and a fuller body than light rum.
Spiced Rum: Usually made from gold rum, this type of rum is exactly what its name indicates. Spices, and sometimes caramel, are added to the rum base to give the liquor its signature flavor.
Dark Rum: This variety is aged longer in charred barrels, giving it a much stronger flavor than the other types of rum. Hints of spice and a strong molasses or caramel overtone are added.
Since Puerto Rico is the largest rum producer globally, it goes without saying that there are a number of distilleries on the island. Brands of rum produced in Puerto Rico include:
Bacardi: Arguably the world's most popular brand of rum, this producer has a large distillery located across the bay from Old San Juan. Every year, numerous tourists visiting Puerto Rico enjoy a free tour of the facility.
Don Q: Many locals view Don Q rum as the best in Puerto Rico. This brand is readily available in the U.S. as well.
Ron del Barrilito: Puerto Rico's oldest rum brand. It is aged in Spanish sherry barrels, lending a cognac-like flavor to the rum.
Palo Viejo: Hard to find outside of Puerto Rico. A favorite choice for classic mixed drinks.
Visitors to Puerto Rico traveling from the U.S. can bring back 5 quarts of alcohol with them – so stock up on your favorite rum when you visit us, and share the taste of the tropics with your friends and family stateside. And, if you're planning a visit, why not stay with us at Maria's, a luxury oceanfront vacation rental located on Maria's Beach in Rincón, Puerto Rico. Please visit our booking page on this website to view the availability of Maria's and fill out our convenient contact form. If you have any additional questions regarding Maria's, you may call Twin Palms at 787-685-6648 (español: 787-449-3673).