You come to Rincon, Puerto Rico for the amazing beaches, the beautiful scenery and the wonderful culture. This holiday season, why not make Puerto Rican culture a part of your celebration? Try some of our favorite traditional holiday beverages, and maybe start planning your next trip to Rincon as you sip!
Celebrate the holidays with Coquito, a traditional Puerto Rican holiday beverage similar to eggnog.
Perhaps one of the most familiar Puerto Rican beverages, Coquito – Spanish for "little coconut" – is a hearty, sweet cocktail, brimming with holiday spice and coconut flavor. Whip up your own Coquito to celebrate the holiday season like Puerto Rico does.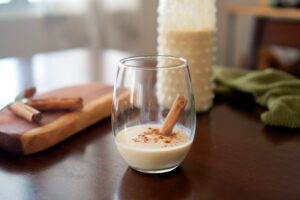 Coquito Recipe
(Courtesy of Food Network Kitchen)

Ingredients:
15-ounce can cream of coconut (Coco Lopez is the most traditional)

14-ounce can sweetened condensed milk

12-ounce can evaporated milk

1 cup unsweetened coconut milk

1/2 cup white rum (feel free to use spiced rum for extra flavor)

1 teaspoon pure vanilla extract

1/2 teaspoon ground cinnamon

1/4 teaspoon freshly grated nutmeg, plus more for serving

Cinnamon sticks, for serving
Directions:
Put the cream of coconut, condensed milk, evaporated milk, coconut milk beverage, rum, vanilla, cinnamon and nutmeg in a blender and blend until smooth, about 2 minutes.

Transfer to a pitcher, cover tightly with plastic wrap and refrigerate until very cold, about 1 hour.

Give the coquito a good stir (the mixture may separate slightly as it sits).

Pour into individual mugs or glasses, top with more nutmeg and serve with a cinnamon stick.
For a less heavy beverage that is guaranteed to please a crowd, serve up a Puerto Rican Sangria.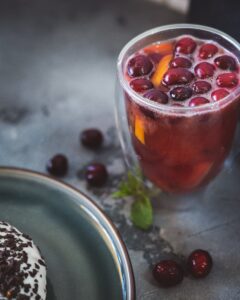 Sangria is a wine punch that is popular throughout the world, but originated in Spain and Portugal. Because Puerto Rico, along with several other countries in the Caribbean, was formerly a colony of Spain, the beverage is quite popular throughout the island. Puerto Rican Sangria reflects the bounty of fresh fruit throughout the island and incorporates one of the island's popular products: rum.
Puerto Rican Sangria:
(Courtesy of The Spruce Eats)
Ingredients:
1 liter bottle rosé wine

1 cup white Puerto Rican rum (Don Q Cristal Rum is preferred)

1 cup freshly squeezed orange juice

1 cup pineapple juice, freshly squeezed if possible

1/2 cup freshly squeezed lemon juice

1 cup granulated sugar

Cranberries, for garnish, optional*

Orange slices, for garnish

Lime slices, for garnish

Mint leaves, for garnish
Directions:
Gather the ingredients.

Combine the wine, rum, orange juice, pineapple juice, lemon juice and sugar in a large glass pitcher. Stir well.

Place the pitcher in the refrigerator and chill for at least 1 hour or longer, until you're ready to serve. Serve sangria over ice and garnish with additional slices of orange, lime, cranberries and fresh mint.
*Cranberries are not a traditional Puerto Rican Sangria ingredients, but can be a great way to add holiday flair to your beverage.
Preparing some of our favorite Puerto Rican holiday beverages is a fantastic way to add a bit of Puerto Rico to your holiday festivities. Of course, nothing beats the real thing. Check out Puerto Rico for a delightful holiday excursion. With Three Kings Day in January being the one of the most popular holiday celebrations on the island, you can still experience the most wonderful time of the year after most of the mainland festivities have died down.
Make Puerto Rico a part of your holiday celebration by booking your stay at Maria's. When you're ready to stay with us, booking is done through Twin Palms, Maria's rental, and onsite management. Please visit our booking page on this website to view the availability of Maria's and fill out our convenient contact form. If you have any additional questions regarding Maria's, you may call Elizabeth at 787-685-6648 (español: Cristina at 787-449-3673).