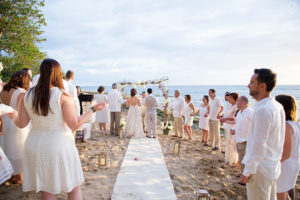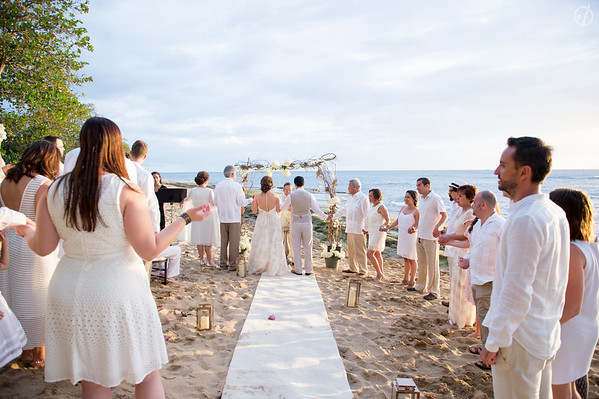 One of the most exciting, memorable events of your life will likely be your wedding. If you've been considering a summer wedding, but you're not sure if you want to go the traditional route, a beach wedding could be a great choice for you. And, there's no place more beautiful for your summer wedding than Maria's, in Rincón, Puerto Rico. Our luxury villa, coupled with an amazing beachfront view, may just be the perfect place for you to tie the knot.
During the summer months, the waves relax with a gentle ocean breeze and gorgeous weather. All of this comes together to create a perfect venue for your nuptials. Not to mention, you can combine your wedding and honeymoon, because there's no shortage of things to do in Puerto Rico – from historical sites to visit and a lively art and scene, to amazing restaurants and live music venues, our island is one of endless adventure and fun.
Honeymoon at Maria's — visit our island.
With the size of our island, you can easily plan a week of memories while staying at Maria's – you can travel to lovely Ponce and visit the Plaza Las Delicias, head out to Old San Juan to take in some amazing architecture and the battlements of San Cristóbal, or go to Arecibo and enjoy a tour of the Arecibo Lighthouse and Historical Park. All are day trips from Maria's, and there are plenty of other sights to see in between.
The best part is, you can come back to Maria's after an adventure-filled day and relax in comfort. You and your partner can unwind poolside, sipping delicious island drinks (like our famous piña colada) while taking in the view of our glorious sunsets. Our island is the perfect place to spend the day exploring, and the evening relaxing and enjoying newlywedded bliss.
And, our luxury accommodations are perfect for your destination wedding and honeymoon.
When you stay with us at Maria's for your destination wedding, there's plenty of room for friends and family, too. With sleeping room enough for 16 people, as well as two full kitchens and dining rooms, a large outdoor pool, hot tubs, and more, you and your wedding party will enjoy both luxury and a home away from home. Your comfort is our primary focus, and our villa is air-conditioned, has internet and Wi-Fi access, and is just a short walk from the beach.
Our spacious lawns will allow for a fully catered affair as well, with plenty of room for food and dining tents, live music, and of course – dancing! Your wedding and reception at Maria's are sure to be unforgettable, along with your stay at our villa. And, we partner with planners who can help you find local caterers, photographers, musical acts and more for the wedding of your dreams. Starting your life together should be a memorable and beautiful experience – and at Maria's, we can make that happen for you!
Find out how you can have the wedding you've always dreamed of with Maria's.
A destination wedding and honeymoon at Maria's is what incredible memories are made of. Our booking is done through Twin Palms, Maria's rental and onsite management. Please visit our booking page on this website to view the availability of Maria's and fill out our convenient contact form. If you have any additional questions regarding Maria's, you may call Twin Palms at 787-685-6648 (español: 787-449-3673). Come start your life together with us!