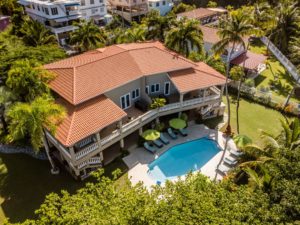 Puerto Rico is prime for surfing all year, but in the winter, when much of the Northern hemisphere is cold or covered with snow, Puerto Rico enters its peak surfing season.
Rincon, Puerto Rico is where some of the best waves on the island can be found. Rincon has plenty to offer whether you're an experienced surfer or just someone looking to try something new.
Surf School's In Session
For the beginner, Rincon boasts many surfing schools, so you can learn how to stay safe while riding the waves. Rincon Surf School, Puntas Surf School and Duke's Surfing School offer group and private lessons for beginner and intermediate surfers alike.
Rincon Surf School:

The Rincon Surf School is Rincon's longest-operating surf school with lessons available for both experienced and inexperienced surfers. The Rincon Surf School provides a discount when booking multiple days, making it a great option for those staying in Rincon for a longer time.

Puntas Surf School:

Puntas Surf School got its start in 2007 after its owner, Melissa, had been giving private surfing lessons since 2002. Puntas Surf School is flexible with lesson start times and cancellations, perfect for visitors with a fuller itinerary.

Duke's Surfing School:

Located close to El Faro de Rincon, Duke's Surfing School is right on the beach with easy access to Puerto Rico's beautiful waves. Beyond surfing, Duke's Surfing School offers

eco-tours

for those interested in Puerto Rico's natural wonders.
Get Your Gear
Experienced surfers may be ready to get into the water and ride the waves as soon as possible. For the experienced surfer, there are surf shops and equipment rental locations throughout Rincon, Puerto Rico, and several can be found right by Maria's Luxury Villa! Skudin Surf Shack, Desecheo Surf Shop and Stoked are all great options for anyone looking for surfing necessities near Maria's. Stoked is located right on Maria's Beach and operates as a cafe in addition to being a surf shop, perfect for anyone hoping to stay right on the beach.
Ride The Waves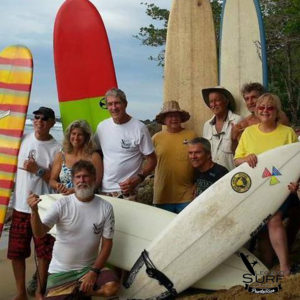 Rincon has no shortage of excellent beaches for surfing. Just a few steps from Maria's Luxury Villa is Maria's Beach, the site of the 1968 World Surfing Championship and a great option for any surfer. Domes, Steps and Sandy Beach are also located close to Maria's and are perfect for those who want to try the different beaches Rincon, Puerto Rico has to offer.
Book Your Stay at Maria's
If you're looking for the perfect place to book a surfing vacation, look no further than Maria's. With access to surf shops, surf schools and the best waves the island has to offer, Maria's is the place to stay.
When you're ready to stay with us, booking is done through Twin Palms, Maria's rental and onsite management. Please visit our booking page on this website to view the availability of Maria's and fill out our convenient contact form. If you have any additional questions regarding Maria's, you may call Elizabeth at 787-685-6648 (español: Cristina at 787-449-3673).