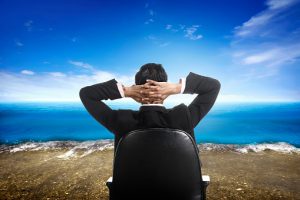 What is the point of a business retreat? Is it for work, or for pleasure, or a little bit of both? Most people agree that a well-planned retreat is a great way to reward employees for a great year, or to further team bonding. Well-planned, however, is the keyword here. Too many times, people suffer through corporate retreats that haven't been thought out very well. After all, it doesn't seem like much of a reward or very conducive to bonding if the retreat is held in a stuffy old hotel in the middle of the city where you work! As the Jimmy Buffett song says, when you change your latitude, you often change your attitude!
So why not consider a destination corporate retreat to Puerto Rico?
The sunny shores of Rincon, Puerto Rico offer temperate weather, beautiful sand and surf, and crystalline oceans that are the perfect place to get away from the hubbub of workday life. And, there's no better place to retreat to than Maria's, located on Maria's Beach in Rincon. With numerous opportunities for both business and pleasure, we're sure you and your employees alike will find Maria's to be the perfect reward for a job well done. The villa itself offers beautiful, open spaces that make getting down to business more of a pleasure, as well as relaxing accommodations for when you're ready to unwind and connect with your employees and coworkers.
Maria's luxury villa is newly built, offering the perfect space for your corporate retreat.
There are plenty of bedrooms, as well as kitchens, lounging areas and dining rooms. Outside, you can enjoy relaxing by our swimming pool or in our hot tubs, as well as private access to the beautiful Maria's Beach. While there are numerous dining experiences in Rincon, we offer a large side lawn that provides the perfect opportunity for outdoor cookouts and a party tent for your corporate mixer. We can help connect you to caterers who will be happy to provide you and your employees with delicious meals while you're staying with us at Maria's.
You want your corporate retreat to have a positive impact on your employees, and leave you with a feeling of camaraderie and accomplishment.
For a corporate retreat that will leave a lasting impression on your employees, we think you'll find that Maria's is a perfect choice. When you stay at Maria's, you and your employees will be treated to a luxury resort experience, including spacious rooms, high-definition satellite television, Internet access and more. We are able to accommodate 16 people, and we offer six full baths, two full kitchens, large dining tables, air conditioning and ceiling fans, washer-and-dryer access, gas grills and a hot tub with full wet bar on each deck.
And, when you and your company stay with us at Maria's, you'll be able to take advantage of all the great activities Rincon has to offer.
You can enjoy corporate bonding over surfing lessons, snorkeling, diving, paddle boarding, or fishing. Maybe you and your employees would prefer to spend the day sightseeing and checking out the Mayaguez Zoo, also known as the Dr. Juan A. Rivero National Zoological Park of Puerto Rico. There a number of different types of animals, including giraffes, lions and tigers, as well as an aviary, arthropod and butterfly house, and an amphibian and reptile house.
So, what are you waiting for?
When you're ready to book your corporate retreat with Maria's, we're ready to help! Our booking is done through Twin Palms, Maria's rental and onsite management. Please visit our booking page on this website to view the availability of Maria's and fill out our convenient contact form. If you have any additional questions regarding Maria's, you may call Twin Palms at 787-685-6648 (español: 787-449-3673). Thank you for planning your business retreat with Maria's!