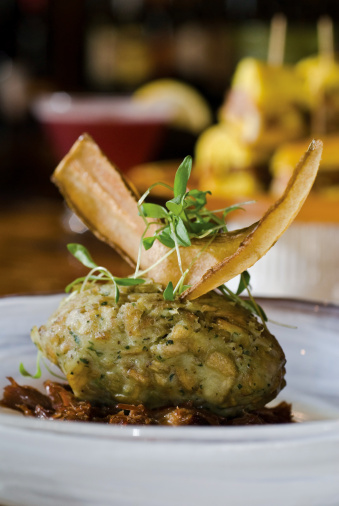 If you travel to Puerto Rico, no doubt you'll want to sample the local cuisine. But you may not know what, exactly, everything is on the menu, especially those items with strange sounding names. Chances are if you venture into a restaurant that offers typically Puerto Rican fare, you'll see mofongo on the menu. Is it a type of fish? A strange, exotic type of poultry? A rare, delectable tropical fruit? Or… is it none of the above?
Well, mofongo is actually none of the above. It's a dish that combines a fried ball of mashed plantains, stuffed with meats like pork, bacon or seafood, and then served with fried meats or a soup. It originated when the African dish fufu was recreated with Spanish and Taíno influences. According to Wikipedia, mofongo made its first cookbook appearance in 1894, in the classic El Cocinero Puertorriqueño.

If you'd like to try mofongo at home before you travel to Puerto Rico, here's a classic recipe from Epicurious that will give you a flavor of the tropical dish right in your own home:
Mofongo
Ingredients:
4 green plantains
2 cups canola or olive oil
Kosher salt to taste
6 garlic cloves
2 tbsp. extra virgin olive oil
1 pound crisp fried pork rinds
1 slice of bacon, cooked
1 cup low-sodium chicken stock
Directions:
Peel plantains and cut into one-inch slices.
In a large saucepan or deep fryer, heat oil to 350ºF. Add plantain slices in two batches and fry for 7 minutes, turning once, until light golden but not browned. Drain on paper towels.
In a large mortar or big bowl, crush garlic cloves with pestle or the back of a spoon and sprinkle with salt. Add olive oil to the mixture and keep pounding until it's well incorporated. Place this mixture in a small bowl.
In the same mortar or bowl, crush half of the fried plantains with half of the pork rinds, ½ slice of the cooked bacon and half the garlic, and pound or smash together. Add up to ½ cup of the chicken stock as necessary to make it moist.
Shape the mixture into two-inch balls. Repeat process with remaining ingredients. Keep mofongo in warm oven until ready to serve. Top with additional crushed pork rinds and cilantro if desired.
Of course, one of the best ways to experience traditional Puerto Rican cuisine is to take a trip to Puerto Rico yourself! If you visit Maria's Beach in Rincón, you can find traditional dishes like mofongo at restaurants such as Francisco's Caribbean Local Cuisine or the Red Flamboyan. Both are just steps away from Maria's, our luxury beachfront resort. Maria's offers a full suite of amenities including large bedrooms, a swimming pool, hot tubs, private access to Maria's Beach, as well as full kitchens. So, if you'd rather try your hand at preparing mofongo with fresh, local ingredients, you can!
Our booking is done through Twin Palms, Maria's rental and onsite management. Please visit our booking page on this website to view the availability of Maria's and fill out our convenient contact form below. If you have any additional questions regarding Maria's, you may call Twin Palms at 787-685-6648 (español: 787-449-3673). Thank you for planning your Puerto Rican vacation with us, and buen apetito!