Planning a Puerto Rico destination wedding is exciting – and a little bit daunting. Your dream is to have the perfect wedding at a beautiful destination, and you want that wedding to create equally beautiful memories for you as a couple, as well as for your friends and family. How can you plan the Puerto Rican wedding of your dreams? It's easier than you think, when you consider Maria's as your destination wedding resort of choice.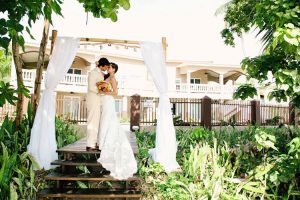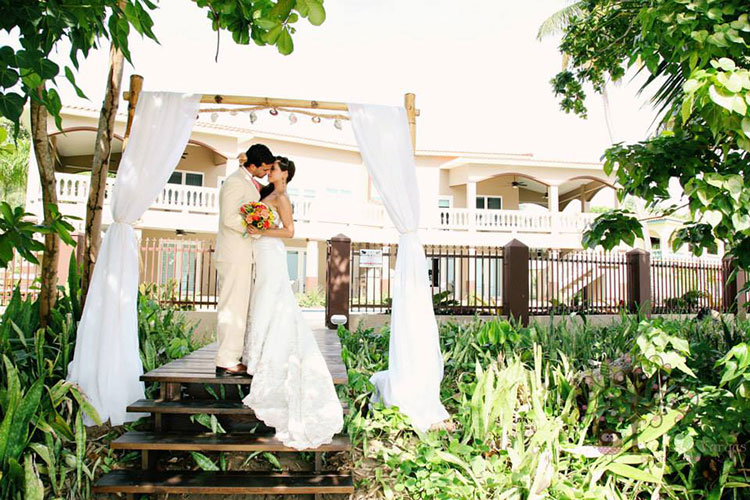 Maria's in Rincon, Puerto Rico is one of the most beautiful beach wedding destinations. When you work with us, you'll not only have access to the absolutely stunning oceanfront, but you, your family and your guests will all be able to stay in our luxury villa. There, you'll have access to eight bedrooms, six full baths, kitchens, lounging and dining areas, a swimming pool and more. You'll even have private access to the beach for you and your guests. And, we can help connect you with photographers, caterers and planners, so it'll be even simpler to plan your destination wedding with us!
View our extended Wedding Gallery for more images of ceremonies and receptions held at Maria's.

Check out our list of Preferred Vendors for photography, catering, makeup, hair styling and more.
And, plan your Puerto Rico honeymoon with us, too.
Would you like to come to Maria's for your honeymoon? We can't think of a better choice! When you stay at Maria's, you'll enjoy all the amenities you'd expect from a luxury resort, including spacious rooms, high definition satellite television, Internet access, hot tubs and more. And why not bring your wedding party or your family, or both along? At Maria's, there is enough room for your entire family and a spacious lawn for a party tent. Here are just a few more features you'll enjoy when you stay at Maria's for your honeymoon:
Villa Features
6 full baths
2 full kitchens
Large dining tables
High definition satellite television
A/C and ceiling fans
Internet access
Washer/dryers
Gas grills
Hot tub and full wet bar on each deck
Poolside half bathroom and outdoor shower
Each booking includes:
Light daily maid service
Local fruit, rum, and coffee
On-site concierge service
Complimentary grocery shopping for orders $250 or less.
Grocery shopping for orders greater than $250 includes a 30% fee
and Much More!
When you choose to honeymoon in Puerto Rico at Maria's, you can enjoy the many activities the Rincon area has to offer. Surfing is a given, but you can also enjoy snorkeling, diving, paddle boarding and fishing. Or, spend a day of fun at the Las Cascadas Waterpark! Not to mention, there are numerous dining experiences you can enjoy, just steps away from Maria's. Whether you want to experience authentic Criollo cuisine, enjoy a few drinks at a poolside bar, or just grab a burger, there are many taste experiences that await you when you spend your honeymoon in Puerto Rico.
When you're ready to book your destination wedding or honeymoon with Maria's, we're ready to help! Our booking is done through Twin Palms, Maria's rental and onsite management. Please visit our booking page on this website to view the availability of Maria's and fill out our convenient contact form below. If you have any additional questions regarding Maria's, you may call Twin Palms at 787-685-6648 (español: 787-449-3673). Thank you for planning your destination wedding with Maria's!