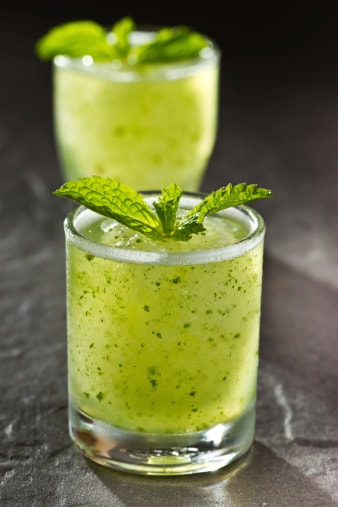 If you were engaged over the holidays, congratulations! If you've always wanted to have a destination wedding in a tropical locale, Puerto Rico is a great choice. What better way to announce to your family and friends that you're getting married, and you've chosen to do so on our lovely island, than inviting them over for a themed party, complete with Puerto Rican appetizers and drinks? Puerto Rico is famous for its delicious rum, so you'll want to serve beverages that highlight that taste of the tropics. Daiquiris and piña coladas offer your guests a sweet delight, but why not add a little citrus to the mix with this tasty mojito recipe?
This recipe from Bobby Flay calls for just a few ingredients, but is sure to have your guests cheering to your engagement – and your island nuptials! Be sure to choose authentic Puerto Rican rum, and enjoy!
Frozen Mojito
Ingredients:
¼ cup simple syrup (Make this by combining equal parts of sugar and water, and boiling until sugar melts. Cool before using in your cocktail.)
2 limes, juiced
12 fresh mint leaves, plus mint sprigs for garnish
4 oz. white rum
2 cups crushed ice
Directions:
Combine simple syrup, lime juice and mint leaves in a blender. Blend until combined. Add rum and crushed ice and blend until frothy. Pour into two rocks glasses and garnish with mint sprigs. Makes 2 mojitos.
There's nothing quite like enjoying a tropical drink or two at an oceanfront villa, which is exactly what you can do when you plan a destination wedding at our luxury beachfront resort, Maria's. Located in Rincón, Puerto Rico, Marias is one of the most beautiful beach wedding destinations. When you work with us, you, your family and your guests will enjoy our luxury villa, which boasts eight bedrooms, six full baths, kitchens, lounging and dining areas, hot tubs, a swimming pool and more. You'll even have private access to the beach for you and your guests. And, we can help connect you with photographers, caterers and planners, so planning your destination with us will be simple!
When you're ready to book your destination wedding or honeymoon with Maria's, we're ready to help! Our booking is done through Twin Palms, Maria's rental and onsite management. Please visit our booking page on this website to view the availability of Maria's and fill out our convenient contact form below. If you have any additional questions regarding Maria's, you may call Twin Palms at 787-685-6648 (español: 787-449-3673). Cheers!