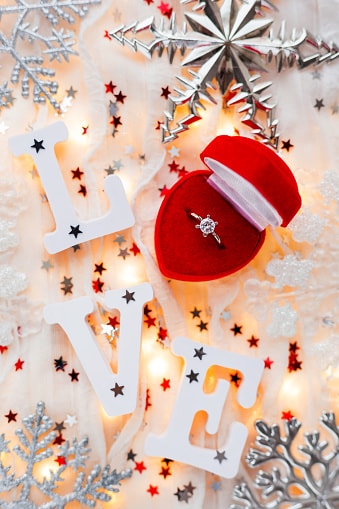 When you decide to ask that special someone to become your spouse during the holiday season, there's a certain magic that's undeniable. An engagement during the holidays is exciting, memorable and the perfect start to a brand new year. It also gives you the chilly winter months to think about your wedding day. If you've always wanted a destination wedding, why not consider the beautiful archipelago of Puerto Rico? With temperate weather, gorgeous scenery, and so much to do, Puerto Rico is a perfect choice for your destination wedding.
Of course, planning a destination wedding can be daunting, because there's a lot to think about. One benefit to choosing Puerto Rico for your wedding is that it's a territory of the United States, and as such, you don't need any special documentation to travel there. No passport is needed, and you don't have to convert your currency. And, when you choose Maria's as your destination wedding resort of choice, we help make it even simpler for you. Located right on the beach in beautiful Rincón, Puerto Rico, Maria's is a luxury resort with spectacular views and all the amenities you need to make your destination wedding the most memorable day of your life.
When you work with us, we'll help you create the destination wedding of your dreams. It all starts with the luxury villa large enough to accommodate family and friends. Maria's boasts eight bedrooms, six full baths, kitchens, lounging and dining areas, a swimming pool and more. There's private access to the beach for you and your guests, and we can help you connect with photographers, planners and caterers. So planning your destination wedding is easy, when you work with Maria's!
Of course, you may choose to plan a wedding closer to home, but are seeking a beautiful, tropical locale for your honeymoon. Maria's is a great choice for that as well. When you stay with us, you'll enjoy all the amenities you'd expect from a luxury resort, like spacious rooms, high definition satellite television, Internet access, hot tubs, fully stocked bars and more.
And, we're located close to the many activities the Rincón area offers, like surfing, snorkeling, diving, paddle boarding and fishing. There are numerous dining experiences you can enjoy, just steps away from Maria's. Whether you want to experience authentic Criollo cuisine, enjoy a few drinks at a poolside bar, or just grab a burger with your new spouse, there are many taste experiences that await you when you choose to honeymoon with us at Maria's!
When you're ready to book your destination wedding or honeymoon with Maria's, we're ready to help! Our booking is done through Twin Palms, Maria's rental and onsite management. Please visit our booking page on this website to view the availability of Maria's and fill out our convenient contact form below. If you have any additional questions regarding Maria's, you may call Twin Palms at 787-685-6648 (español: 787-449-3673). Cheers!