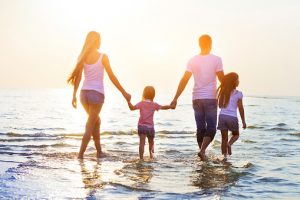 If you're like many people, you might be just about over the doldrums of winter. Cold temperatures, unpleasant commutes, grey skies and cabin fever all may very well have you ready for a vacation in warmer climes. Spring break from school and college is on the horizon, and you might be thinking it's the perfect time to get away with your family. A vacation always helps to recharge the batteries, and if you're dreaming of sun, ocean and relaxation, then you should consider making a break for it to Puerto Rico.
A Puerto Rican vacation over spring break is not only an ideal getaway for your family; it's surprisingly simple to plan a vacation to the island. Most people who have never visited Puerto Rico before don't realize that as a commonwealth, it is an unincorporated territory of the United States, and that makes traveling there virtually as easy as traveling anywhere in the U.S. Here are five reasons why you may want to plan your family Spring Break vacation to Puerto Rico:
Winter Weather Getaway: The island of Puerto Rico enjoys fairly consistent, without drastic temperature changes year-round. The average temperature on the island is 82ºF. That means your family will likely enjoy sun and surf during your Spring Break vacation, allowing you to have beautiful, sunny days at the beach during your stay. Make sure you pack your swimsuit and sunscreen!
No Passport Required: As mentioned above, Puerto Rico is a territory of the U.S., and that means you can travel there without a passport. When planning a family vacation, getting everyone a passport is a hassle most people dread. Enjoying Spring Break in Puerto Rico means you won't have worry about it!
No Currency Worries: Again, since you'll be traveling to a U.S. territory, you won't have to worry about currency exchanges. You'll be able to use your U.S. currency just as you would in the states.
Different Sights to See: There is so much to see in Puerto Rico, it would be impossible to list it all here! But you can count on beautiful, expansive beaches, a broad range of architecture, breathtaking natural views that include the El Yunque National Forest, biobays and beautiful reefs, unique bird and amphibian species, tropical vegetation and flora, and more.
So Much to Do: Does your family like to surf? Fish? Scuba dive? Maybe they enjoy exploring museums, trying the local cuisine or shopping for unique, handmade craft items. No matter what your family enjoys, there is a never-ending list of fun experiences to be had in Puerto Rico. You're sure to have a memorable vacation full of new experiences when you stay with us.
When you're ready to plan a Spring Break vacation to Puerto Rico, why not stay at Maria's, a new luxury villa conveniently located on Maria's Beach in Rincón, Puerto Rico. Our booking is done through Twin Palms, Maria's rental and onsite management. Please visit our booking page on this website to view the availability of Maria's and fill out our convenient contact form. If you have any additional questions regarding Maria's, you may call Twin Palms at 787-685-6648 (español: 787-449-3673). Thank you for planning your vacation with us.