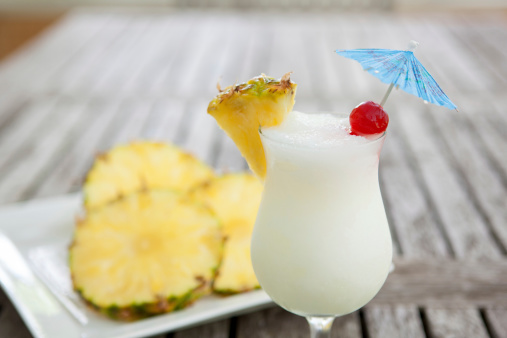 The quintessential adult beverage of the tropics, the piña colada, has been the official drink of Puerto Rico since 1978 and with good reason – it was invented here! The piña colada is a mixture of rum, pineapple juice and coconut cream, and while its origins are a bit muddled, there is no doubt that the drink is an island paradise in a glass. So, who invented the piña colada, and what is the traditional island recipe?
"Piña colada," while sounding rather exotic and glamorous, literally means "strained pineapple" in Spanish. While the recipe for the drink enjoyed today originated in the 1950s, the actual name "piña colada" didn't come into being until much later. There was a recipe for a much different piña colada published in Travel Magazine during the 1920s that consisted of rum, pineapple juice, lime, ice and sugar, but the drink most recognized today was likely created at the Caribe Hilton in San Juan, Puerto Rico during the mid-1950s.
There, it is said that the hotel's bartender Ramón Marrero Perez created the drink in conjunction with the release of the new cream of coconut product, Coco López. Happily for tropical drink lovers everywhere, the original recipe is not a secret – and it's relatively quick and easy to whip up. You can try it by following this recipe:
The Original Caribe Hilton Piña Colada
Ingredients:
2 oz. white rum
1 oz. coconut cream
1 oz. heavy cream
6 oz. fresh pineapple juice
½ cup crushed ice
Garnish:
Fresh pineapple wedge
Maraschino cherry
Method:
Add rum, coconut cream, heavy cream and pineapple juice in a blender. Add ice and blend for 15 seconds or until smooth. Serve with fresh pineapple wedge and maraschino cherry as garnish.
Of course, the best way to enjoy a piña colada is by drinking one right here in Puerto Rico! Maria's, a luxury resort located on the historic Maria's Beach in Rincón, Puerto Rico, is just steps away from Calypso Tropical Bar. There, you can enjoy an authentic Puerto Rican piña colada, as well as some traditional island fare.
When you stay with us at Maria's, you'll enjoy our exclusive waterfront vacation rental. This 8-bedroom villa is the perfect setting for large gatherings such as family reunions, weddings, and more. Maria Garcia and her son Ramon Avecedo Garcia lived on the beach for over 50 years, becoming beloved residents of the town of Rincon. The villa is still owned by the Avecedo family today.  Contact us about booking now – you'll be that much closer to enjoying a taste of the tropics!