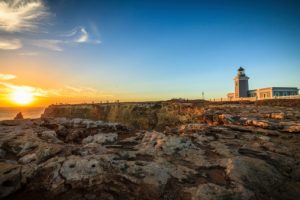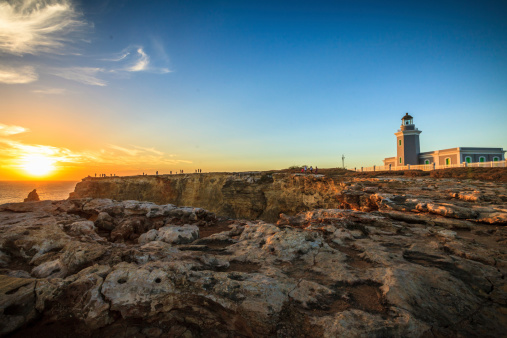 If you're planning a vacation in Rincón, Puerto Rico, you're sure to find many interesting adventures awaiting you. Our island is rich in culture, history and natural beauty, and as we've mentioned before, visiting places of interest is as easy as going for a drive. There is so much to see just by taking a day trip around Puerto Rico! One place that offers some awe-inspiring natural views is Cabo Rojo, located just over an hour away from Maria's. From a national wildlife refuge, to expansive reddish-colored salt flats, to limestone cliffs overlooking the Caribbean Sea, there is much beauty to behold in Cabo Rojo.
Cabo Rojo National Wildlife Refuge: This 1836-acre refuge serves as a habitat to many native shore and land bird species, including the yellow-shouldered blackbird, an endangered species. Cabo Rojo offers what is considered the most important stopover for migratory birds. Additionally, numerous types of lizards, frogs and toads reside in the refuge, including the island's mascot, the coqui. Visitors will also see a variety of plants and vegetation, and habitats which include mangrove forests, dry forests, and hypersaline lagoons.
Salt Flats: The Salt Flats, known as Las Salinas, comprise over 1200 acres and provide an interesting scenic view, mostly due to the reddish color of the flats. The reason for the coloration is due in part to the abundant clay in the ground in Cabo Rojo, as well as the abundance of brine shrimp on the flats. The salt flats are a result of the hypersaline lagoons in which the water is highly concentrated with salt. Besides checking out the beauty of the salt flats, visitors can also enjoy bird watching, hiking and an observation tower that allows visitors to take in the mountains, all the colors of Las Salinas, and the beautiful Los Morrillos Lighthouse.
Limestone Cliffs/Los Morrillos Lighthouse: The limestone cliffs of Cabo Rojo offer incredible views, dropping over 200 feet into the ocean. The cliffs are surrounded by water lagoons and marshes. Because of the treacherous nature of the cliff, the Los Morrillos lighthouse was originally built in the late 1800s to help guide ships through from the Caribbean Sea into the Atlantic Ocean. The lighthouse itself is simple with minimal decoration. Newly refurbished in 2014, the lighthouse now features a photo exhibit, and you can go up to the observation deck on the roof of the building for some beautiful views.
When you're ready to come visit Puerto Rico, Maria's is ready to help! Our booking is done through Twin Palms, Maria's rental and onsite management. Please visit our booking page on this website to view the availability of Maria's and fill out our convenient contact form. If you have any additional questions regarding Maria's, you may call Twin Palms at 787-685-6648 (español: 787-449-3673). Thank you for planning your Puerto Rican vacation with Maria's!