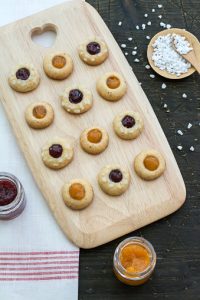 When summer arrives, so do many invites to outdoor parties. From neighborhood cookouts, to family reunions, to grad parties, there are many places to go and people to see. Why not make your visit a memorable one by bringing a Puerto Rican favorite to the party – mantecaditos, or Puerto Rican shortbread cookies? These little treats adorned with guava jelly or sprinkles are sure to be gobbled up in no time – and make you the life of the party!
We found the traditional recipe for mantecaditos on the Hispanic Kitchen website. Enjoy!
Mantecaditos
Ingredients
2 cups all-purpose flour
½ cup granulated sugar
½ cup unsalted butter, cool
½ cup vegetable shortening, cold
1 tsp. almond extract
½ tsp. vanilla
Pinch of salt
Sprinkles and guava jelly to decorate
Directions
Preheat oven to 350ºF.
Line ungreased cookie sheet with parchment paper.
Cream butter and shortening until creamy with mixer, about 2 minutes.
Add sugar and keep mixing until creamy and fluffy, about 1 minute.
Add the pinch of salt and the extracts, mix to combine.
With mixer on low speed, add flour ¼ cup at a time. (Mixture will look coarse.)
Form tablespoons of dough into balls, place on cookie sheet. Press thumb in center.
Add guava jelly or sprinkles to the well.
Bake for 10-12 minutes. Cookies will not brown on top, just on sides.
Place on cooling rack for 5-10 minutes.
Recipe makes approximately 2-dozen cookies.
Of course, if you'd like to try really authentic mantecaditos, you'll have to visit a panadería, or bakery. And the only way to do that is by coming to see us in Puerto Rico! We would love for you to come visit beautiful Rincón, and while you're here, stay with us at Maria's, our luxury oceanfront vacation villa. Our booking is done through Twin Palms, Maria's rental and onsite management. Please visit our booking page on this website to view the availability of Maria's. If you have any additional questions, you may call Twin Palms at 787-685-6648 (español: 787-449-3673). Thank you for planning your Puerto Rican vacation with us, and buen provencho!