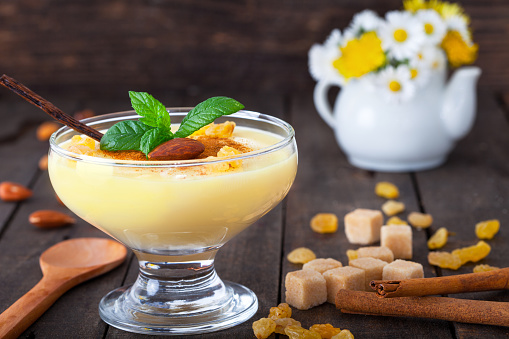 Vacationing in Puerto Rico can be sweet – especially if you take the time to savor some of the delectable desserts the island paradise has to offer. While there's no official dessert of Puerto Rico, most islanders will agree – coconut pudding, known as tembleque, is a long-standing favorite. Made with six simple ingredients, you can make tembleque easily right in your own home – and enjoy a taste of the tropics tonight. We're sharing a recipe from Chef Wilo Benet, owner of the Pikayo, Varita and Payá restaurants in Puerto Rico. Enjoy!
Ingredients:
2 14-oz. cans of coconut milk
2 ¼ cups sugar
1 cup cornstarch
¾ cup water
½ tsp. salt
Ground cinnamon for dusting
Directions:
In a saucepan, combine coconut milk, sugar and salt. Bring to a full boil and cook for about six minutes, stirring occasionally.
In a bowl, whisk together the water and cornstarch until blended into a slurry.
Immediately pour the slurry into the saucepan and cook for two minutes, whisking continuously until mixture thickens into a pudding.
Remove from heat. Pour mixture through a colander, and transfer the strained mixture into a 12"x6" dish or into individual dessert glasses. Smooth, and set aside to cool. Refrigerate cooled mixture for two hours to completely set.
Before serving, dust surface with ground cinnamon, slice and serve.
If you love the delicious island flavor of tembleque when you try it at home, why not soak in the sights, sounds and tastes of the tropics by visiting us in Puerto Rico? We'd love to have you here at Maria's, a luxury resort located on Maria's Beach in Rincón. Maria's offers all the amenities you need to enjoy our island paradise in complete relaxation and comfort. Our booking is done through Twin Palms, Maria's rental and onsite management. Please visit our booking page on this website to view the availability of Maria's and fill out our convenient contact form below. If you have any additional questions regarding Maria's, you may call Twin Palms at 787-685-6648 (español: 787-449-3673). Thank you for planning your Puerto Rican vacation with us!