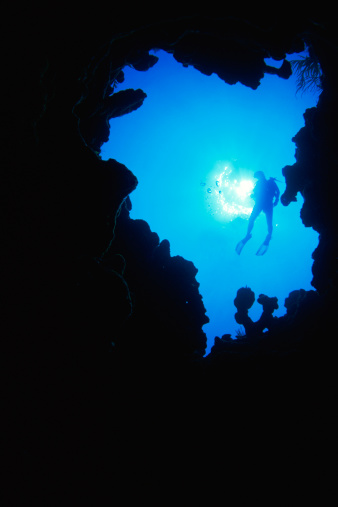 If you're planning a trip to Rincón, Puerto Rico, you can't miss out on a bio bay tour. Just an hour south of Maria's Beach in Rincón is La Parguera, home to one of the island's three bio bay areas. You may be wondering what a bio bay is, and why you need to see it. Rest assured, a nighttime visit to La Parguera won't be one you'll forget soon. A magical spectacle of glowing waters, your bio bay adventure will provide memories that will last a lifetime.
According to the Scripps Institute of Oceanography, bio bays, or bioluminescent bays, are bodies of water that contain millions of tiny microorganisms known as dinoflagellates, which light up to provide the glow seen in the water. These single-celled "dinos" are indeed prehistoric, as their name suggests, and they are members of the plankton family. They live close to the surface of the water, and while they are found in all the oceans of the world, they are particularly concentrated in certain areas of the waters surrounding Puerto Rico. In fact, the island has three bio bays – Puerto Mosquito, Grande Fajardo and La Parguera.
Why do the dinoflagellates light up? Very basically, they flash to startle predators, which disrupts feeding and reduces the number of the glowing plankton that is eaten. Besides predators, there are other factors that can make dinos emit light – movement of the water such as waves and swimming animals (like people) can cause them to glow. Each dino flashes their light for a very brief time – about 100 milliseconds. They generally "recharge" during the day so they are able to flash again in the evening.
The best time to view a bioluminescent bay is when it's very dark outside, typically during a new moon. There are several bio bay tours available for La Parguera. Keep in mind, getting to a bio bay in the dead of night by yourself is not an easy task. To get to La Parguera, you need to travel through mangrove channels, so an experienced guide is a must. While swimming in the bio bay is allowed, some scientists suggest it has caused a decrease in the dino population – many agree that La Parguera's bioluminescence is not as healthy as it once was. Perfumes, bug sprays and hair care products can have a detrimental effect on the dinos, so if you do choose to swim, try to avoid using any type of chemical on your skin or hair beforehand.
If you're staying with us on Maria's Beach, plan for a 1-½ hour drive to La Parguera. Bio bay tours are generally not overly costly, and most of the time light meals are included in the tour price. When you book your vacation with us, we can help you find the best bio bay tours and much more. Our booking is done through Twin Palms, Maria's rental and onsite management. Please visit our booking page on this website to view the availability of Maria's and fill out our convenient contact form. If you have any additional questions regarding Maria's, you may call Twin Palms at 787-685-6648 (español: 787-449-3673). Thank you for planning your vacation with Maria's!