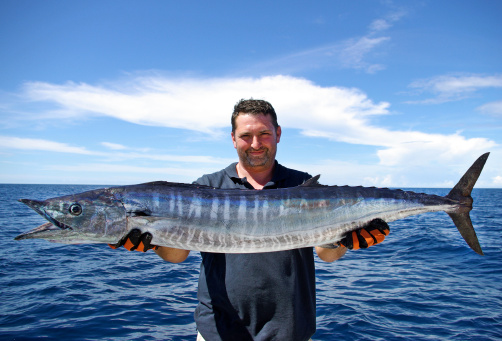 If you're a fishing enthusiast who's planning a vacation in Rincón, Puerto Rico, you should consider making a fishing excursion a part of your adventure. There are many species of fish living in the waters around Rincón, and there are a number of different fishing charters available. Some of the most popular fish that visiting anglers pursue include the Blue Marlin, the Mahi-Mahi, the Tuna, and the unusually named Wahoo. Here are a few facts about these fish, and the best times to visit Puerto Rico if you'd like to make one your catch of the day!
Blue Marlin: The Blue Marlin is a highly prized game fish, and fishing for them in Puerto Rico is a popular sport. When fully mature, the Blue Marlin has very few predators aside from man. The Blue Marlin is a blue-black color with a silver underbelly with rows of cobalt-blue stripes. They are in the billfish family and have long, stout bills. Trolling is one of the most effective ways to catch a Blue Marlin. The size of the average catch in Puerto Rican waters is between 150-250 pounds, but there can be much larger Blue Marlin swimming in the same areas. Blue Marlin season runs from the June full moon through the November full moon.
Mahi-Mahi: There is some confusion over the Mahi-Mahi, as it is also known as the dolphinfish. The Mahi-Mahi is not actually a dolphin, or a mammal for that matter, at all – it is actually a relative of a very common fish, the perch. Mahi-Mahi are best known for their amazing, bold colors of gold, bright blue and green, and range in size from the average of 20 to 30 pounds, all the way up to 70 pounds. They are a very popular eating fish, and many restaurants in Puerto Rico serve Mahi-Mahi dishes. If you want to fish for Mahi-Mahi while vacationing in Rincón, there are two seasons – one on the north coast from November through December, and one on the south coast that runs from February and ends in either late April or early May.
Tuna: Ask any mermaid you happen to see swimming in the waters off the coast of Rincón, Puerto Rico and they'll tell you – Tuna are abundant. A prized game fish known for its excellent food quality, catching a Tuna is a highlight for anyone enjoying a fishing charter. In Puerto Rico, the main Tuna species include the Blackfin, the Bonito and the Skipjack. While all sharing a same basic resemblance, different Tuna species vary greatly in size and coloration. The weight of the fish will depend upon its species, with fish ranging in size from 25 to up to 80 pounds.
Wahoo: The Wahoo, also known as peto, are prized as game fish because of their speed and high-quality meat. They are usually caught by trolling, which is a fishing method where the baited fishing line is dragged through the water behind a moving boat. They are silver and blue with very small scales, and razor sharp teeth. Those off the coast of Rincón usually weigh between 10 and 70 pounds. They resemble Mackerel and to some degree, Barracuda. In Puerto Rico, fishing season for Wahoo begins in November and ends in April.
If you decide to visit Rincón, Puerto Rico for a fishing excursion, why not stay with us in style at Maria's? Maria's is a new, 8-bedroom oceanfront villa located on Maria's Beach. Rooms are spacious, and Internet and satellite television is available, as well as complete kitchens, dining rooms and baths. Enjoy the swimming pool, or go to the beach through our private access. Relax on our lower or upper decks that are equipped with hot tubs and full wet bars.
When you're ready to stay with us at Maria's, we're ready to help! Our booking is done through Twin Palms, Maria's rental and onsite management. Please visit our booking page on this website to view the availability of Maria's and fill out our convenient contact form. If you have any additional questions regarding Maria's, you may call Twin Palms at 787-685-6648 (español: 787-449-3673).