You're not alone if you're asking yourself… "Is Thanksgiving celebrated in Puerto Rico?" As a U.S. territory, Thanksgiving is indeed a well-celebrated holiday throughout the island, but with a slight island twist to the menu, of course. A traditional Puerto Rican Thanksgiving menu most often includes Mofongo stuffing, Arroz con Gandules (rice with pigeon peas), amarillos (fried sweet plantains with sugar), morcilla (blood sausage) Tostones, and Tembleque (coconut custard) or dulce de leche.
Just as the rest of the U.S., the centerpiece to any Thanksgiving meal is the turkey… or this case, Pavochon. According to Delish D'Lites, Pavochon is kind of a made-up word. As they explain it, the word combines the Spanish words for turkey (pavo) & roast suckling pig (lechon).
No matter the etymology of Pavochon, one this is certain, it's mouth-wateringly good. Don't take our word for it. Spice up your holiday and try something a little different this Thanksgiving.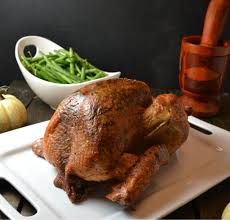 Pavochon: Thanksgiving Turkey Puerto Rican Style
Thanksgiving Turkey, Puerto Rican Style – Courtesy of Delish D'Lites
Prep Time
2
hours
40
minutes
Cook Time
2
hours
40
minutes
Total Time
5
hours
20
minutes
Ingredients
1

whole turkey

12-16 lbs, thawed and giblets removed

24

cloves

of garlic

minced

2

tablespoons

Adobo All Purpose seasoning

recommended: Goya

6

teaspoons

Sazon seasoning (3 packets)

recommended: Goya

2

teaspoons

ground black pepper

2

teaspoons

dried oregano

3

tablespoons

extra virgin olive oil

3

tablespoons

white vinegar
Instructions
Defrost the turkey according to the package instructions, remove the giblets and pat it dry. Place the turkey in a non-reactive container or extra large ziptop bag.
Mince up the garlic cloves in a mortar and pestle, or food processor. Add in the Adobo, Sazon, pepper, oregano, olive oil and vinegar. Stir to combine.
Using your fingers, gently separate the skin from the meat. Be gentle, so you don't tear the skin up too much. Flip the turkey over, and do the same thing on the other side. Spread half of the mixture underneath the skin on the back side of the turkey. Do the same thing on the breast side of the turkey. Lastly, sprinkle the outside of the bird with a liberal amount of Adobo (2 teaspoons).
Cover the turkey and marinate for at least 4 hours, but preferably overnight.
When you're ready to cook the turkey, preheat your oven to 325 degrees F. Place the turkey breast side up on a roasting pan fitted with a roasting rack. Don't cover the turkey with foil, otherwise

it won't brown.

Cook until a meat thermometer reads 165F, basting occasionally. This should take about 3-4 hours, depending on the size of your turkey.
If your family enjoys this traditional Thanksgiving dish, they will certainly love spending their next holiday here at Maria's. Now is the perfect time to start planning your next big escape… we have room enough for the whole family!