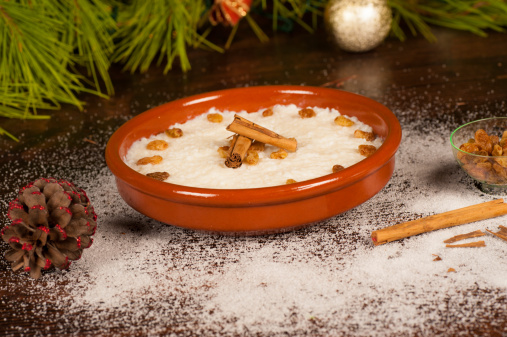 If you've been thinking about mixing it up a little this holiday season, why not consider treating your friends and family to a traditional Puerto Rican holiday feast? The same old holiday menu can get boring after a while, and a little multi-cultural flair will make your guests take notice. So why not add some "Feliz Navidad" to your menu this year and make your Christmas feast one worth remembering? Below you'll find the components of a traditional Puerto Rican holiday feast, along with descriptions and some recipes you can try.
For a truly Puerto Rican menu, be sure to include the following:
Lechón Asado: This is grilled or roasted pork that's served as the main dish. If you'd like to make lechón asado, you can find a recipe for this dish at Epicurious.
Arroz con Gandules: The name of this dish literally translates to rice with pigeon peas. It is a rice dish flavored with tomato, adobo seasoning and sofrito.
Plátanos: Usually the plátanos, or plantains, are peeled, sliced and then sautéed in oil. They are then drained on a paper towel and seasoned with salt. Don't be fooled into thinking plantains taste like bananas – their flavor is much more like that of a potato.
Pasteles: Pasteles are typically made using mashed green plantains, which are blended with meat and then wrapped in banana tree leaves. They are then steamed for close to an hour.
Arroz con Dulce: This is a sort of rice pudding that has been cooked in spices, ginger, milk, coconut milk, raisins and rum. This is considered the national Christmas dessert of Puerto Rico.
Tembleque: While there's no official dessert of Puerto Rico, most islanders will agree – coconut pudding, known as tembleque, is a long-standing favorite. Made with six simple ingredients, you can make tembleque easily right in your own home. Our recipe is easy to make and will be a great addition to your feast.
Coquito: This holiday beverage is Puerto Rico's version of eggnog. Coquito is named after the island's tiny mascot, the coqui frog. It is similar to eggnog in flavor, but it incorporates the tropical taste of coconut. You can try our recipe here.
We hope your Puerto Rican-infused Christmas feast inspires you to come visit our island!
We'd love to have you here at Maria's, a luxury resort located on Maria's Beach in Rincón. Maria's offers all the amenities you need to enjoy our island paradise in complete relaxation and comfort. Our booking is done through Twin Palms, Maria's rental and onsite management. Please visit our booking page on this website to view the availability of Maria's and fill out our convenient contact form. If you have any additional questions regarding Maria's, you may call us at 787-685-6648 (español: 787-449-3673) (español: 787-449-3673). Thank you for planning your Puerto Rican vacation with us!