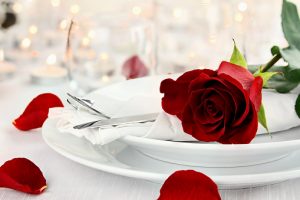 When planning your special Valentine's dinner, why not forget the reservations and create a delectable feast at home for your sweetheart? Nothing says "I love you" quite like a delicious home cooked meal, and creating something unique will be even more appreciated by your loved one. Creating a meal with international flair may take a little more planning, but your extra efforts are sure to be rewarded.
We've taken some of the guesswork out of creating a wonderful Valentine's Day dinner with a tropical island flair by visiting allrecipes.com and providing some descriptions of traditional Puerto Rican dishes along with links to the recipes. We think your sweetheart will love sampling these dishes, and will definitely appreciate all the love and care you put into this special meal for them.
Tostones: Made with green plantains, tostones are fried goodies that are often served as an appetizer. They may be dipped in garlic in olive oil if you desire. Find a simple recipe for tostones
Asopao de Pollo: This is a traditional Puerto Rican chicken and rice stew, and is full of flavor. Your efforts are sure to be appreciated when you make asopao de pollo for your loved one, using this recipe.
Habichuelas Guisadas: Beans and rice are both typical side dishes for most Puerto Rican meals. Generally speaking, this bean dish is served over plain white rice. This recipe will help you make tasty habichuelas guisadas for your Valentine.
Piña Colada Sorbet: The delectable piña colada beverage is said to have originated in Puerto Rico at the Caribe Hilton. While alcohol-free, this sorbet recipe will give you the taste of the tropics in a delicious frozen concoction
Why not take things one step further by giving your Valentine a dream vacation to Puerto Rico? The delicious meal you make for them can be the lead-in to your gift. Vacationing in Puerto Rico is easy, too – while you'll be miles away from everyday stress during your island getaway, our island is a United States territory. That means, you won't have the worry of getting a passport or converting your money like you would if travelling to other tropical locales.
And, if you come to Puerto Rico, you can enjoy a luxurious stay at Maria's. Our new, 8-bedroom oceanfront villa is perfect for anyone looking to get away in style. Each half of our villa accommodates eight people, so why not invite all of your loved ones to come along? Maria's is perfect for a destination wedding, too, so if an engagement is in your plans this Valentine's Day, think of us as the perfect place for your upcoming nuptials.
Our booking is done through Twin Palms, Maria's rental and onsite management. Please visit our booking page on this website to view the availability of Maria's and fill out our convenient contact form below. If you have any additional questions regarding Maria's, you may call Twin Palms at 787-685-6648 (español: 787-449-3673). Thank you for planning your Puerto Rican vacation with us, and happy Valentine's Day!